There's an app for that! Best horse apps today
Some of the best finds are those you didn't even know you were looking for.  And when you find one that speaks to the exact thing that has been standing between you and Olympic glory… well, then.
From dressage to show jumping, cross-country or hacking or simply taking the best horse selfies, these apps are bound to add value to your equestrian lifestyle.
1.   Dressage Memoriser
Do you often struggle to remember your dressage tests? Then Dressage Memoriser is for you! Dressage Memoriser is an intuitive equestrian app that engages your memory in a creative way and lets you focus on your riding in the dressage ring. In the app, you can choose a 20 x 40 or a 20 x 60m arena where you draw your riding patterns by hand.
The arena letters are positioned around and within the arena for extra accuracy. You can also indicate the place of a transition by lifting your finger off the screen.
After recording your dressage test, you can revise it as many times as you wish by drawing the patterns on a fresh page. Dressage Memoriser will indicate whenever there is a mismatch by beeping and drawing a red circle at the beginning of the mistake.
With repetition, the app helps you effectively memorize your ride which takes the stress out of dressage competitions.
Download from the Apple App Store DRESSAGE MEMORISER
2.   Coursewalk
CourseWalk is an all-inclusive equestrian app for ambitious event riders. It allows you to create a map of your cross-country and show jumping courses and also lets you look up dressage tests and live scoring.
On CourseWalk, you can record every fence along with the routine and add additional details like pictures. All the fences can be reviewed in the photo gallery and you can take a virtual tour of the entire course. The app will also position your minute markers and automatically adjust them once you enter the optimum time.
Additional features include different colored lines for uphill, level, and downhill sections, elevation data, and offline usage. You can share your recorded course on MyCourseWalk.com, where you can view and download courses uploaded by others. The app is also a great asset to course designers, who can create, print, and share maps with competitors through the app.
What's more, CourseWalk has an integrated feature that lets you analyze each ride. You can record your horse's speed and heart rate as you go, which will be overlaid onto the track.
Download from the Google Play Store COURSEWALK
Download from the Apple App Store COURSEWALK
3.   Horse Riding Tracker
The Horse Riding Tracker is a user-friendly equestrian app that's great for tracking your trail or endurance rides. It gives you various useful metrics such as distance, duration, average and max speeds, and elevation.
With Horse Riding Tracker, you have the option to playback each ride on the map and compare the statistics. This way, you can easily monitor your horse's performance over time and make changes to your training routine. You can also add photos and comments to each session.
One unique feature of the app is that it gives you audio feedback on each mile or kilometer you ride. You can set it to keep you updated on distance and duration or just turn it off completely.
The app also integrates with other health and fitness apps on your device. This allows you to have the heart rate data and statistics of your rides all in one place.
The Horse Riding Tracker is free to use on Android or Apple devices, although it seems considerably more accurate on iPhones. The app is rated 4.7/5 stars in the Apple store with over 350 ratings. There is also an optional subscription within the app that unlocks even more pro features.
Download from the Apple App Store HORSE RIDING TRACKER
4.   Ridely
Ridely is an innovative Swedish equestrian app that adds structure to your training routine. Their mission is to help riders achieve their dream goals by setting milestones and providing stats on activities.
A unique feature of Ridely is that it includes training videos from experts in show jumping, dressage, and other disciplines. These educational videos aim to inspire riders and allow professionals to share their knowledge with a wide audience.
The app has an integrated calendar to help plan your week and stay on top of things. You can log all of your activities along with videos and photos and share them with your horse's co-rider or trainer.
You can also add tags to your training sessions and easily search for them in the calendar. Statistics are recorded on the intensity, time, and feeling (e.g. positive or negative) of every ride.
The premium version gives you the opportunity to submit a maximum 10-minute long video of your ride for consultation with an expert of your choice.
Download from the Google Play Store RIDELY
Download from the Apple App Store RIDELY
5.   Horse Rider SOS
Despite our best efforts, horses will always be unpredictable animals that can inadvertently land you in dangerous situations. Horse Rider SOS is a rider safety app that will give you peace of mind when you're out and about on your horse.
The concept behind the app is really simple. All you have to do is press "Start" before you set off and the app will monitor your exact location. If you stop moving for a certain amount of time, the app will assume you have fallen off and send an alert to your chosen saviors.
In order to avoid false alarms, Horse Rider SOS lets you manually override the alert. You can enter how long you want the app to delay sending the alert. In the last 60 seconds of the delay time, the app will start to vibrate and siren to let you know it is about to begin the rescue process.
When setting up the app, it is important that you enable GPS and wi-fi in order for it to work. Make sure you have the volume turned up on your phone so you can hear when the alert is about to be sent. You can also add one or multiple "buddies" as your rescuers.
The Horse and Rider SOS website has a useful user manual for both Android and iPhone that will help you get started. With this handy app in your pocket, you will never have to worry about your rides again!
Download from the Apply App Store HORSE RIDER SOS
And then, just for fun…
6.   All Ears App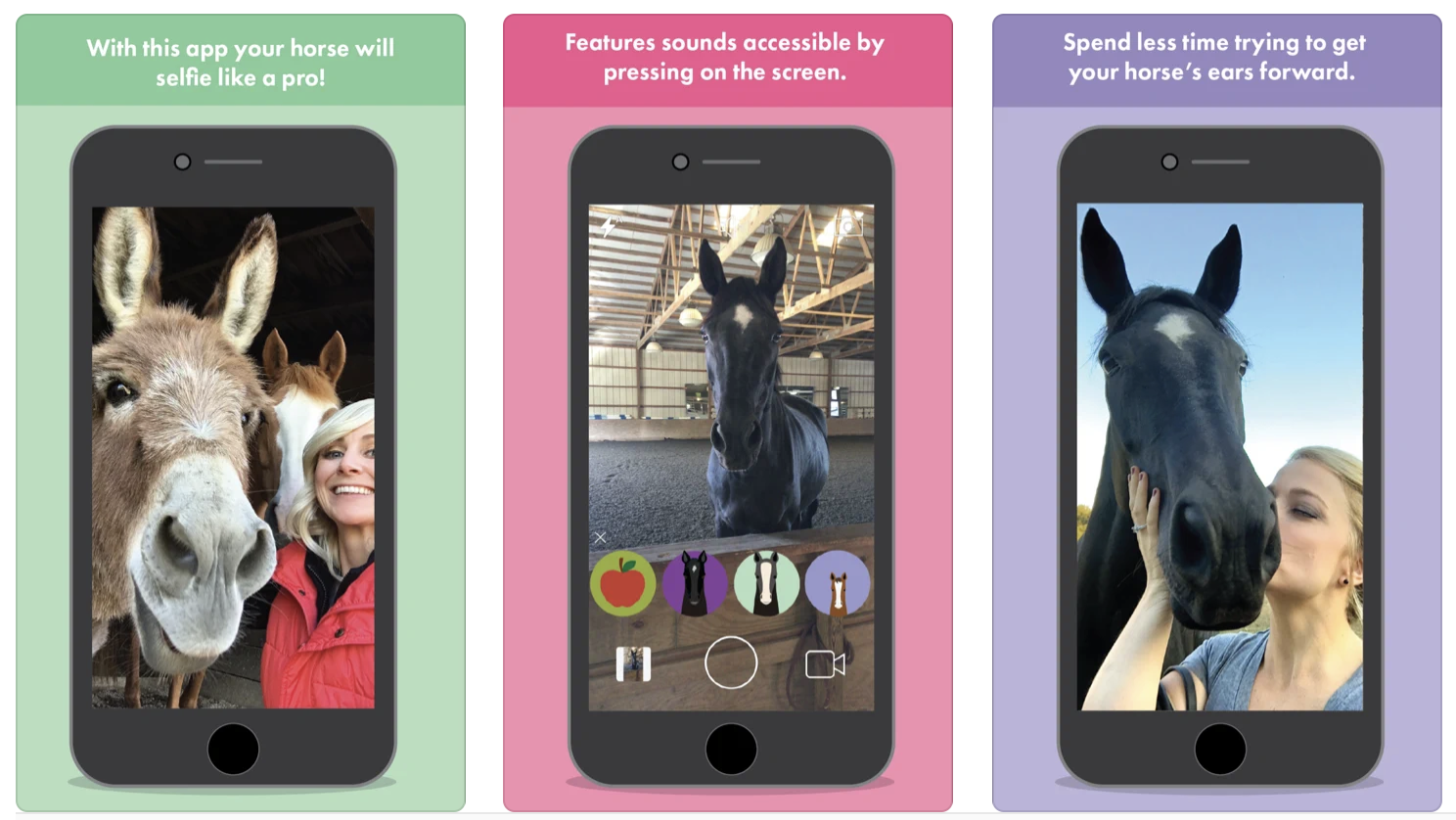 This one is designed to emit a sound on your phone to get your horse's ears forward for photo taking. You can choose between 25 different horse-related sounds to custom fit what works for your horse's perfect selfie pose. Never take a grumpy ears-back selfie again!
Download from the Apple App Store ALL EARS APP
Elite Equine organic rosehip supplement is BETA/NOPS approved and safe for use in all equestrian events
For your *FREE sample, contact [email protected]

🇺🇸 www.elitequineus.com
🇿🇦 www.eliteequinesa.com
First published on www.horseyhooves.com
*FREE to Mainland UK and the Isles